This post is just to record some observations related to an ongoing conversation over at the Talkshop between Bob Weber and Ren. In case you are unaware there is a strong geomagnetic storm in progress. Auroras will be seen at lower latitudes – if the clouds part!
I'll start with a quote from Dr. Tony Phillips of spaceweather.com of the current situation (original emphasis):
CME
IMPACT, SEVERE GEOMAGNETIC STORM: 

Arriving earlier than expected, a CME hit Earth's magnetic field on March 17th at approximately 04:30 UT. At first, the impact sparked a relatively mild G1-class (Kp=5) geomagnetic storm. Since then, however, the storm has intensified to G4-class (Kp=8), ranking it as the strongest geomagnetic storm of the current solar cycle. This storm is underway now.
http://spaceweather.com/archive.php?view=1&day=17&month=03&year=2015
http://www.swpc.noaa.gov/products/planetary-k-index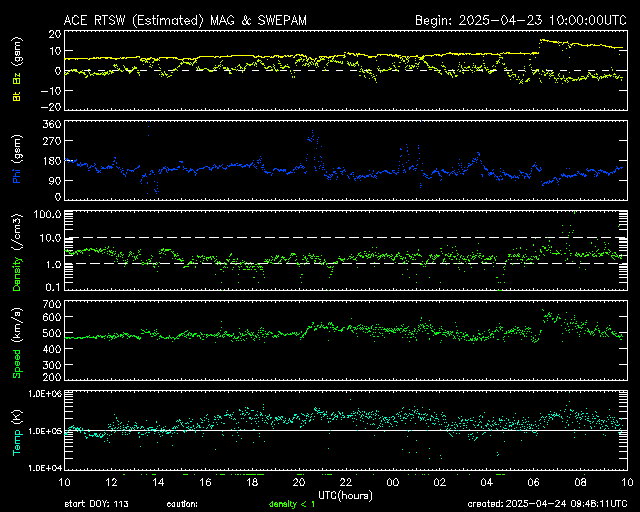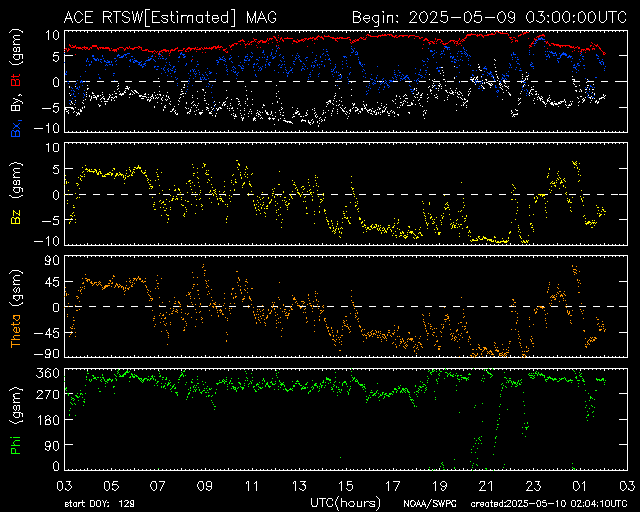 Bob's comment (written earlier in the day)
This morning we're undergoing a G1-class geomagnetic storm. Oulu is sharply down right now.

The IMF was 35nT a few minutes ago, with Bz as high as -28nT during that spike and 600km/s solar wind. Hemispheric power at both poles went from 9 GW to 90 GW very quickly, triggering auroras down to the US-Canadian border (hemispheric power is a function of solar wind speed & density).

Solarham said this morning "CME Impact: Ground based magnetometers detected a geomagnetic sudden impulse (54 nT @ Boulder) at 04:35 UTC. This marks the exact moment that an interplanetary shockwave originating from the sun swept past our planet. The Bz component of the interplanetary magnetic field (IMF), carried through our solar system via the solar wind is currently pointing north, a condition that could suppress geomagnetic activity. Monitor solar wind during the next several hours. Should the Bz tip south, this could help intensify geomagnetic conditions at high latitudes. Sky watchers should be alert tonight for visible aurora displays."
http://tallbloke.wordpress.com/2015/03/14/paul-vaughan-wind-is-an-dominant-player-in-climate-variation/comment-page-1/#comment-98939
Olu Neutron Monitor
Aurora
Ren commented
Now even accelerate the jet stream. Will also wind blew strongly at the level 700 hPa.
Ren's linked image
http://earth.nullschool.net/#current/wind/isobaric/700hPa/orthographic=24.35,68.24,442
ren, US winds very gusty right now. could you make a screenshot of the earth.nullschool image you're linking to above and post it please? [see above] I just captured all the various indice images to document this event in full, and the aurora images were among them.
Well hopefully we've captured some useful images. I've also added to this. All the following screengrabs are from earth.nullschool.net (a tutorial video can be found here).
Hemispheric views.
Wind @700hpa
Wind @250hpa
Temperatures @850hpa
Surface temperatures
Surface pressure