Earth Extremities
Waterfalls were seen all over the huge sandstone rock. Pic: Parks Australia
A freak storm has turned one of Australia's most famous and driest attractions into a series of spectacular waterfalls.
Uluru in Central Australia normally gets on average just 22cm of rain a year.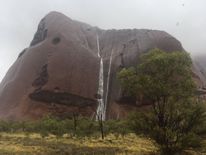 Water runs off Uluru after the storm. Pic: @BiancaH80 and @waginski
But a huge Christmas night storm saw more than 23cm fall in 24 hours – a record amount – sending water cascading down the enormous sandstone rock and turning small canyons into raging torrents.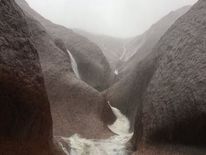 Water tumbling down the landmark is highly unusual. Pic: @BiancaH80 and @waginski
Described as a once-in-50-year event by the Australian Bureau of Meteorology, the downpour was photographed by school teachers Bianca and Lee Hewes.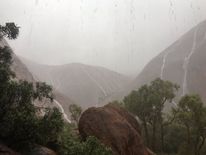 The heavy downpour has shut Uluru national park. Pic: @BiancaH80 and @waginski
Their pictures, posted on social media, show the dramatic change in…
View original post 113 more words