Whatever the explanation for their occurrence, they are rather awe inspiring as I found when I finally managed to capture one overhead, just after solstice this year.
Spaceweather.com
July 21, 2021: Noctilucent cloud (NLC) season is now 8 weeks old. This animation from NASA's AIM spacecraft shows everything that has happened since the first clouds appeared in late May: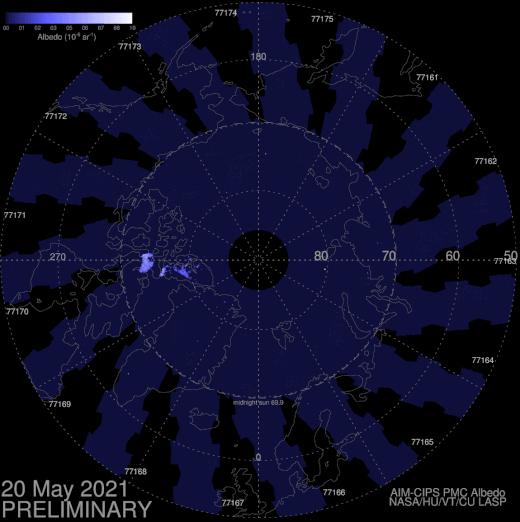 The last frame says it all: Noctilucent clouds are still bright and abundant. In fact, at the highest latitudes they are setting records.
"We're seeing more clouds at 80°N than in any other year since AIM was launched," says Cora Randall of the University of Colorado's Laboratory for Atmospheric and Space Research. "Cloud frequencies at 80°N are around 85%, whereas it's more typical to see frequencies of about 75%." ('Frequencies' are a measure of patchiness. 100% is complete coverage; 0% is no clouds at all.)
"This morning, I watched a fantastic display, the best of the year so far ," reports Marek Nikodem, who photographed the clouds from Szubin, Poland (53°N) on July 21st:
"It's not the end of…
View original post 89 more words